Ryan Serif
Ryan Serif is an uniqued typeface designed during TypeSchool Latin Course in July 2017, hosted by 3type. Combining modern slab serif and a classic feel, Ryan Serif is a display typeface that is beautiful and eye-catching. The design is inspired by handwriting latin calligraphy, and the stroke contrast embodies humanity. As for the slab serif, it brings a taste of modernness to the typeface.
Ryan Serif got the Best Award at TypeSchool that year and you can purchase it on 3type's web store or add it to your font library under 字由's subscription.
Live demo
Buy on 3type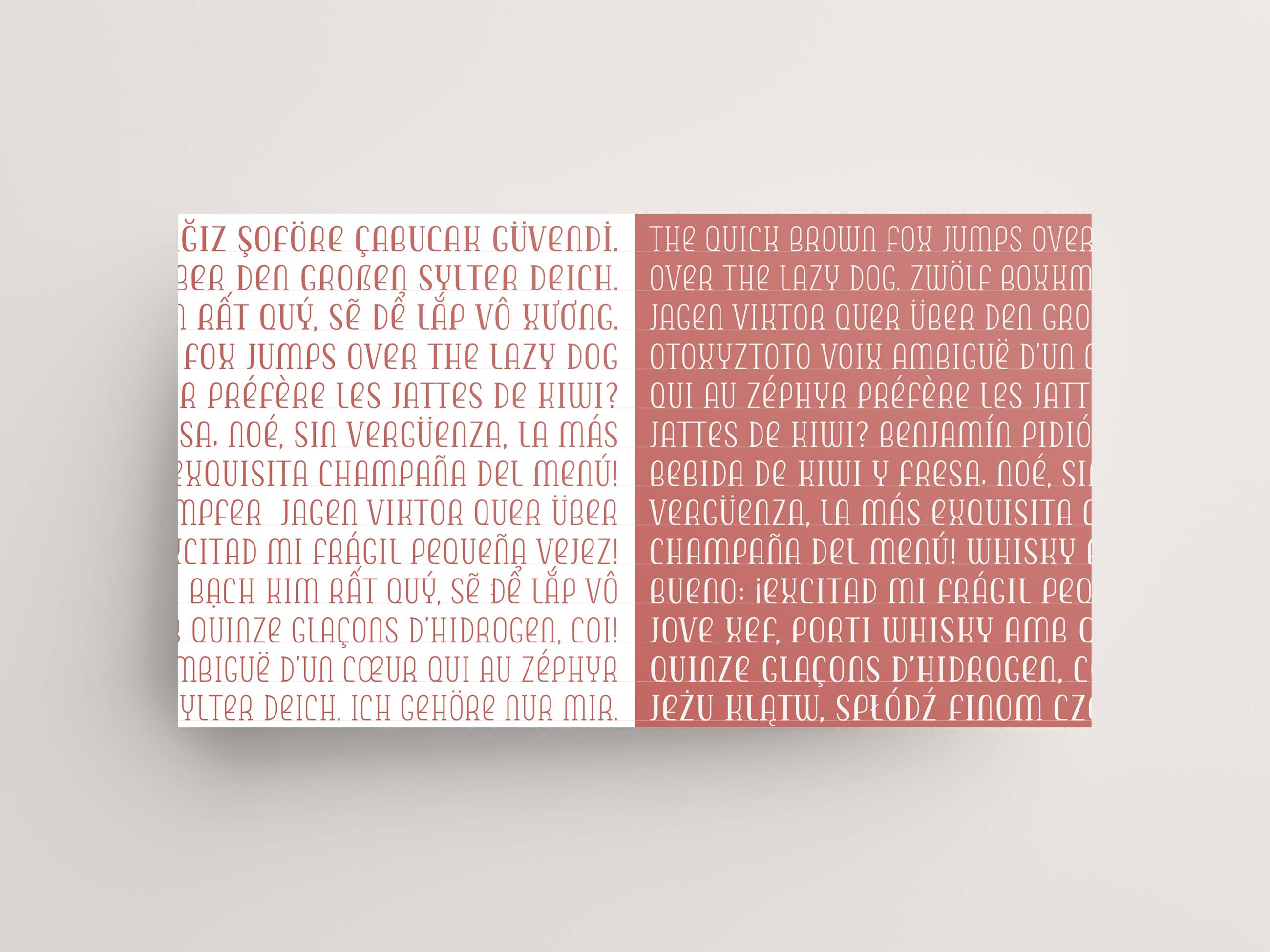 Type feature
Modern Meets the Classic
Ryan Serif is a display typeface inspired by handwriting scripts and classic serif letterforms. It features a modern feel slab serif, handwriting-style thick/thin stroke contrast, combining the modern character with a calligraphic feel.
You can even find the trace of pre-mature historical lowercase letter forms in Ryan Serif. The form of "e" in Ryan Serif honors the "e" from Uncial script commonly used from the 4th to 8th centuries AD. But anyway, if you are not a fan of this "e", Ryan Serif as well offers a more familiar "E" thanks to OpenType Stylish Alternatives feature. You can choose the very one form that you like freely as you want.

Three-weight family
Unique Personalities
Ryan Serif is a family of three weights: regular, semilight and light, varying by the thickness of the left stroke. Every weight of the typeface is nicely adjusted to achieve a unique visual identity.

Handcrafted with care
Real Small Capitals
There are no lowercase letter in Ryan Serif. Instead, we crafted small capitals for you. Say goodbye to the poor auto-scaling of uppercase letters. The small caps are manually tweaked to match the stroke width of uppercase letters and provide a visual harmony.


Big character set
For the Multilingual World
Ryan Serif has a big character set which covers most European languages using latin script and Vietnamese. There are also OpenType localization features built for Català, Nederlands and Türkçe typography.

Fonts in use
Empowering New Works
Designers have created great works with Ryan Serif.
Ryan Serif now available
Try it for yourself.