Journo for Windows
Journo is a my work of entry to Windows Insider Continuum App Competition hosted by Microsoft. Journo is a delicate app dedicated to writing journals exclusive on Windows 10.
Journo is designed to work perfectly with the Continuum as well as all the great features brought by Universal Windows Platform. You can protect your journals with Windows Hello, create a sketch with Windows Ink and even sync all your journals across all your Windows 10 devices.
Full documentation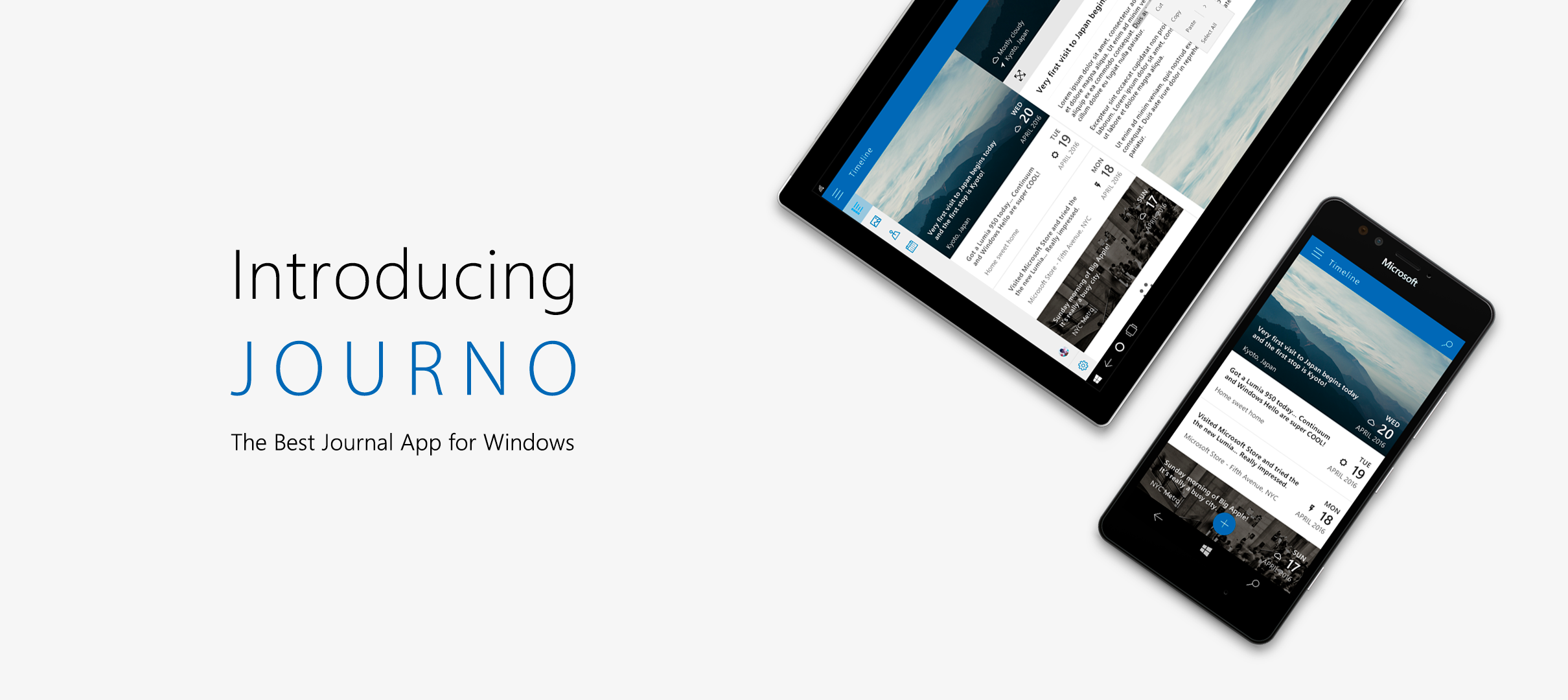 Cross-device responsive UI
Seamless and Effortless
The minimalist interface makes good use of every single pixel on the screen. The brand new responsive UI ensures the best uncompromised experience whether you're using your phone, tablet or PC. The moment finger touches the screen or mouse clicks is the moment inspiration of writing bursts.
Timeline
Single Place for Your Everyday
Everything of your everyday is well placed in the timeline: the weather, your location, and your favorite photo of the day, all in one single place. The latest journal will be on the top with a large hero image to highlight the moment.
Universal plus button
Write Anytime, Anywhere
The universal plus button is where creation starts. Whatever interface you're in, the button will always stay on top so you can start your creation with one click. The universal plus button will trigger four options including location, text, photo and sketch. We combine these four options into one button for your best convenience so your idea will not fade away.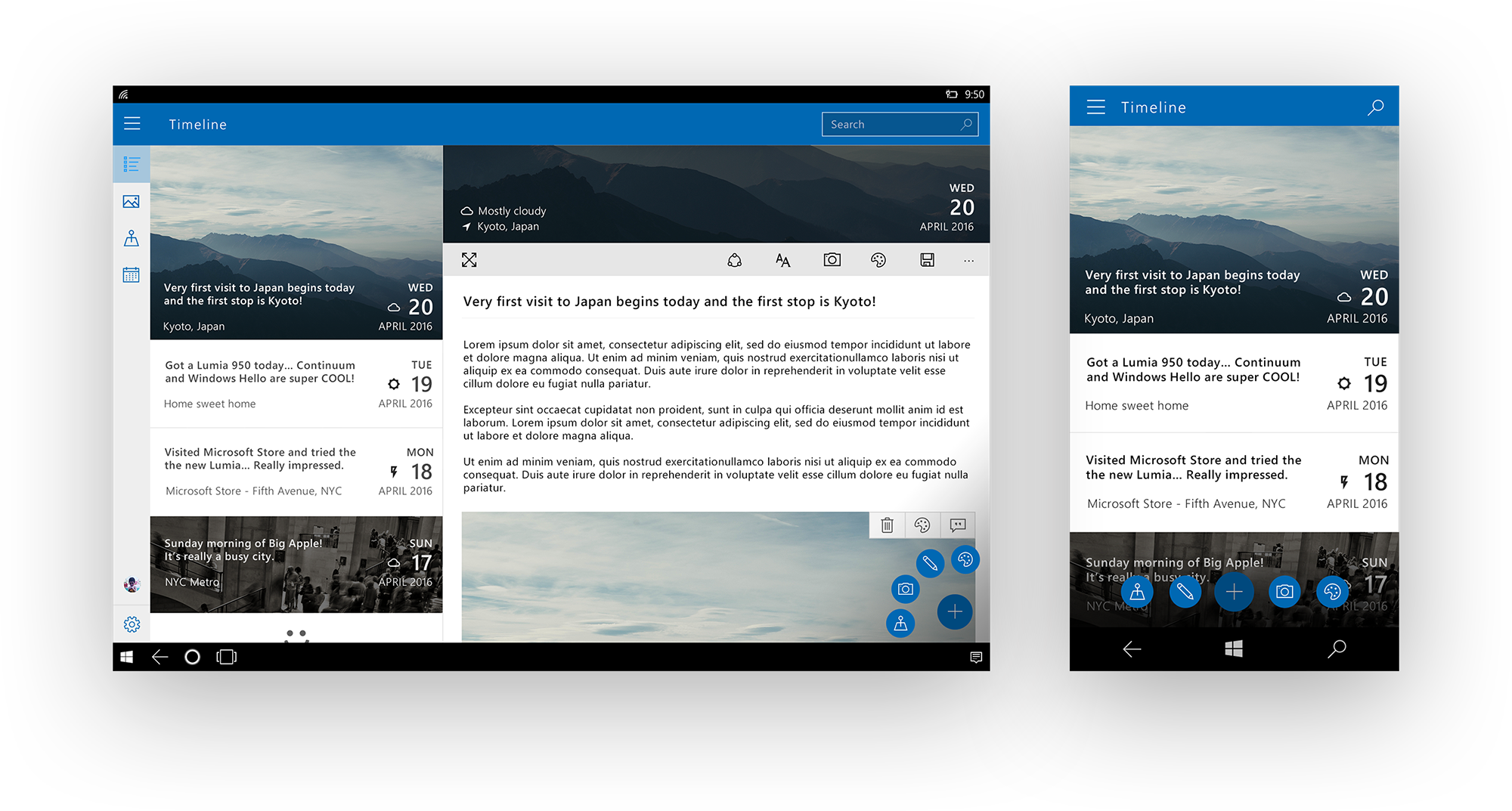 Writing experience
There's a Lot in a Pack
A great balance of the visual lightness and powerful functions. The action panel you know well in Windows 10 now includes all the features you need for your journal. You can effortlessly arrange the text setting, insert photos and sketches, export or print, even protect your privacy with Windows Hello or a PIN. The photo editing feature is also powerful since you can now add captions and sketches from the action panel on the photo. Journo also respects the long-time habits people have: when connected to a keyboard, you can simply use the shortcuts like CTRL+V, you're already an expert.
Distraction-free mode
Clean and Pure
In Continuum mode, you can enable distraction-free fullscreen mode simply by clicking on the fullscreen button. All the editing tools will be fixed to the top of the screen so that you can access them more easily than ever. Normally, it's not comfortable to have a full-width writing pad so the default width of the writing pad will only take about 3/5 of the screen width. Even so, there's always an option for you to change the width, because this is your very personal app.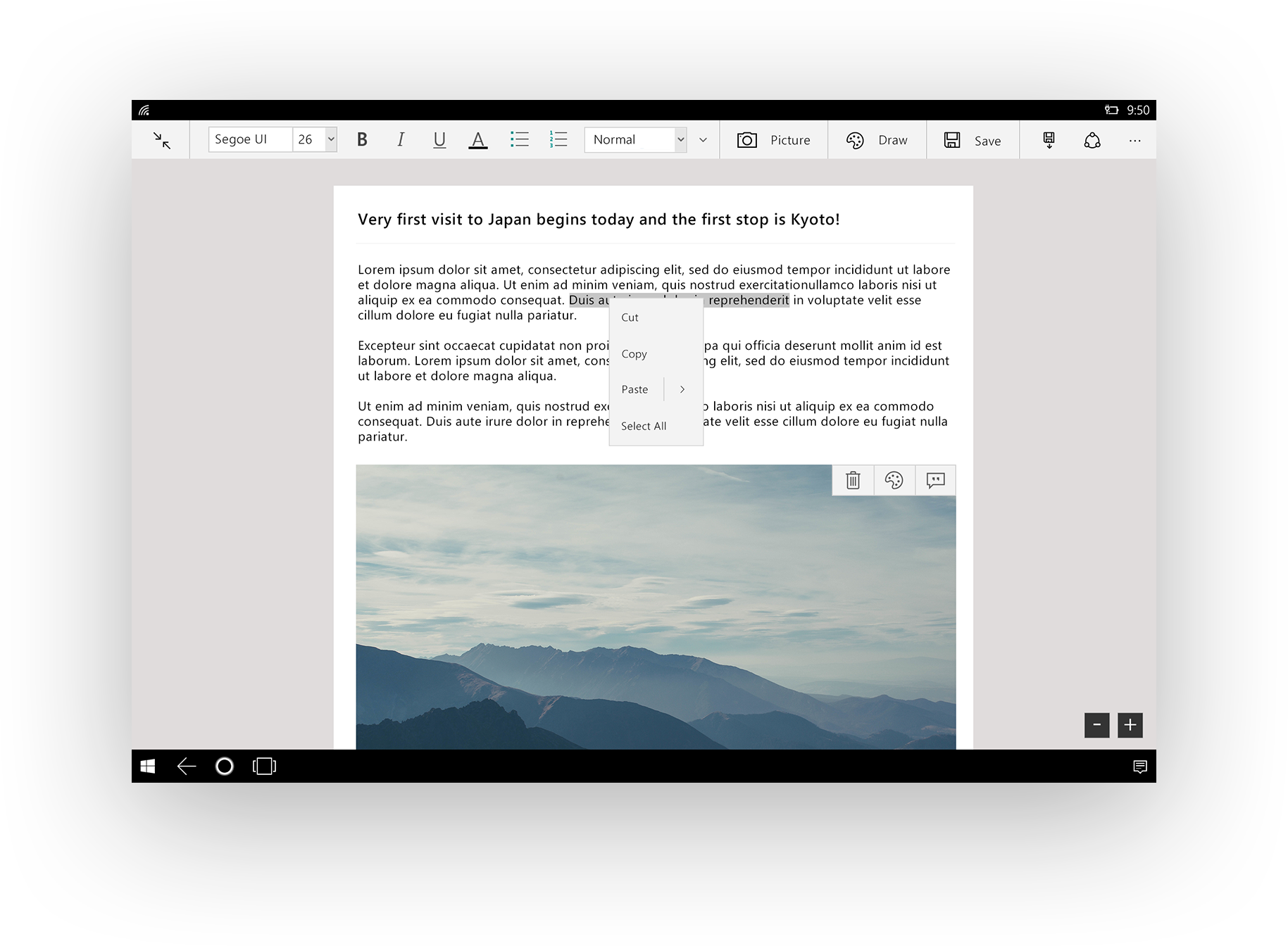 Windows Ink
Sketch What You Wanna Say
Windows Ink is integrated into Journal so you can sketch on any canvas and photos. When you are using Continuum, you can use your phone as a When you draw in Continuum mode, you can use your phone as a drawing pad. In this scenario, your phone will show the Windows Ink tools fixed to the top of the screen and any change you made with your finger will instantly show on the connected display.
Pictures hub
Memories in One Place
All the photos in your journal will be in the pictures hub and sorted by month. When you touch or click on the month tag, you'll a full list of months for making a quick jump to any month. And slide show is available as the best way to enjoy your pictures.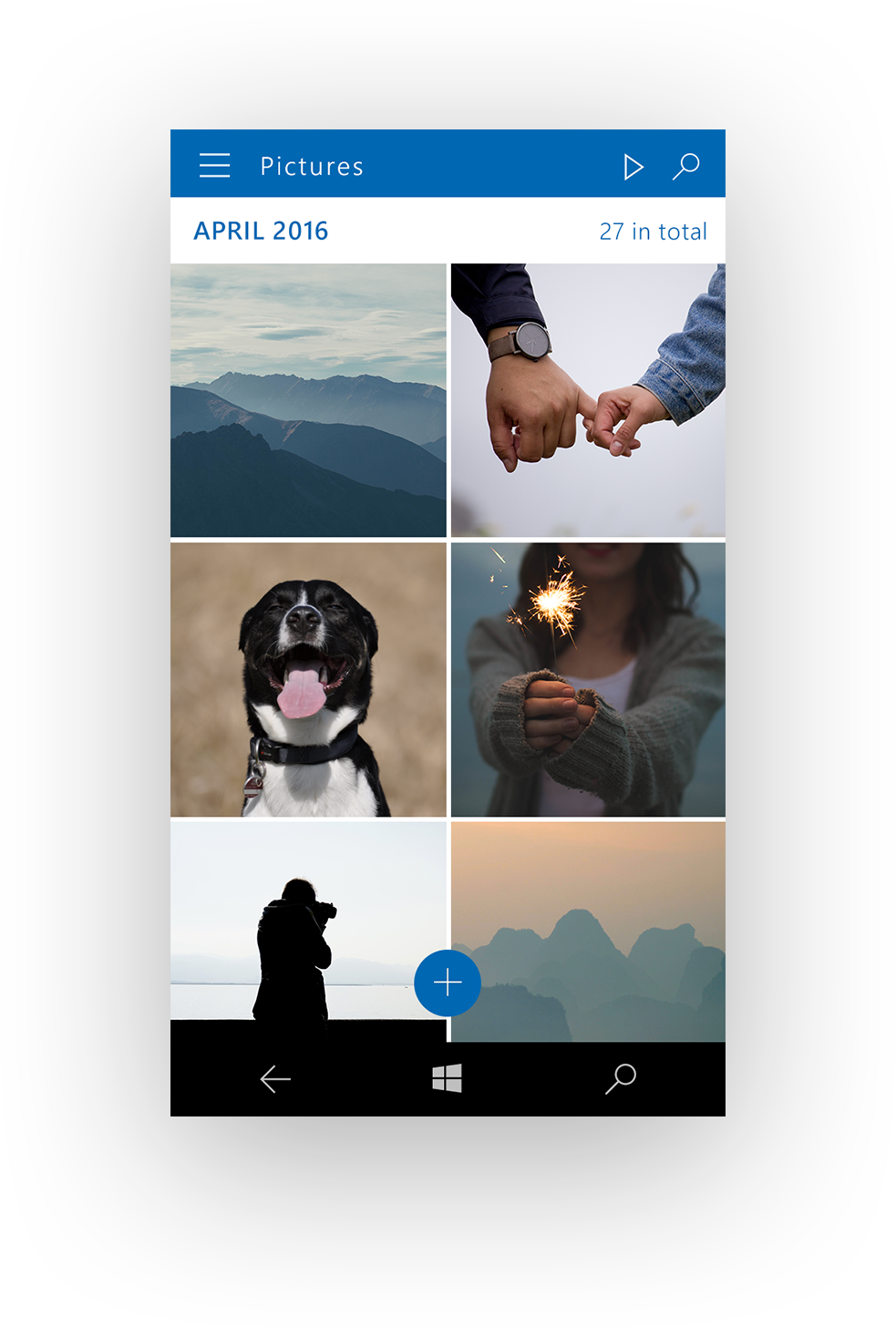 Locations hub
Life in a Map
You can view all your journals on a map in locations hub. Every location will have a pin counting how many journals you've written in this place. You can access the very timeline of a single location by pressing on it.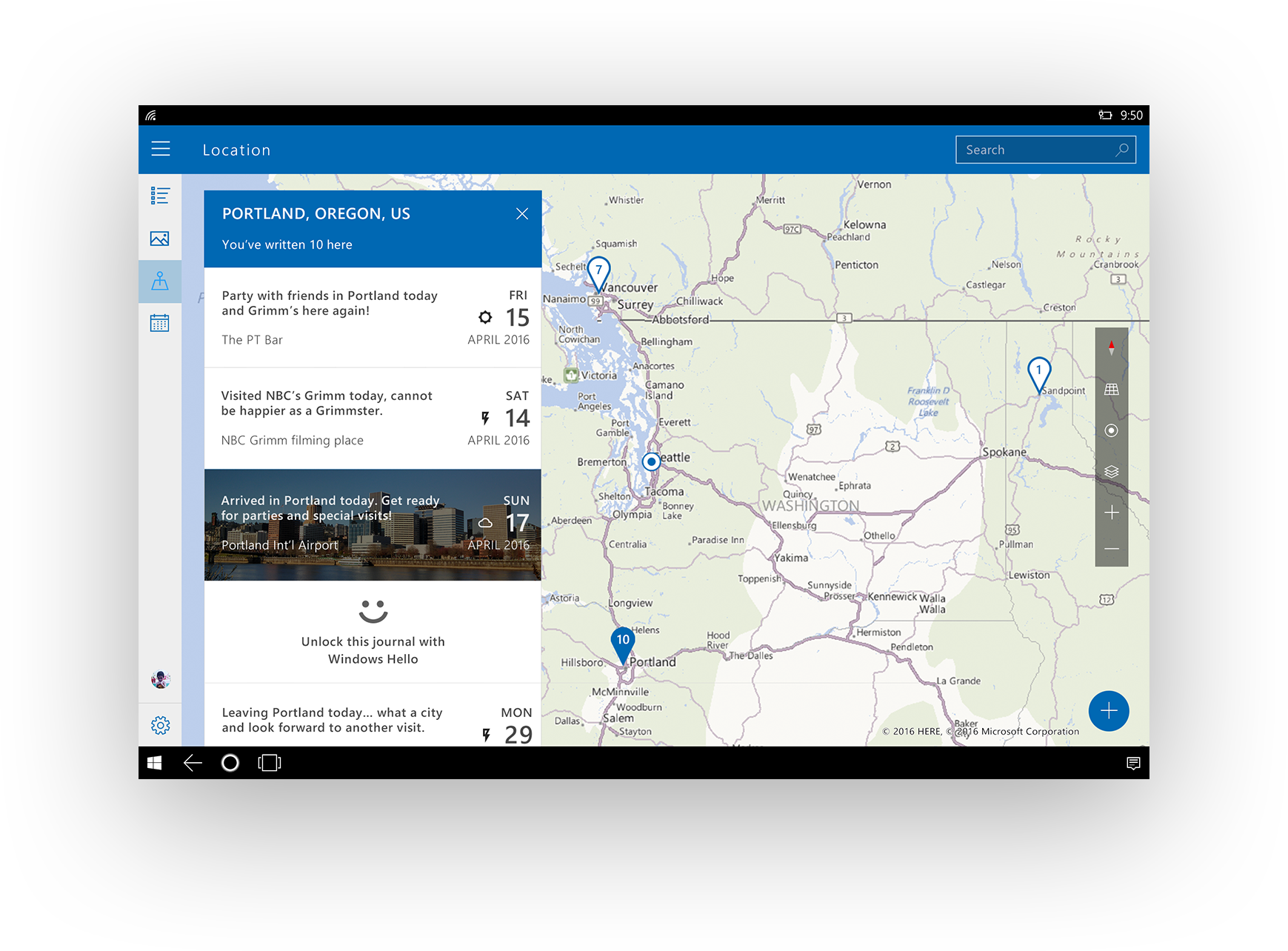 Me page
A New Perspective
You can view your statistics from overall spent time to weekly count in me page.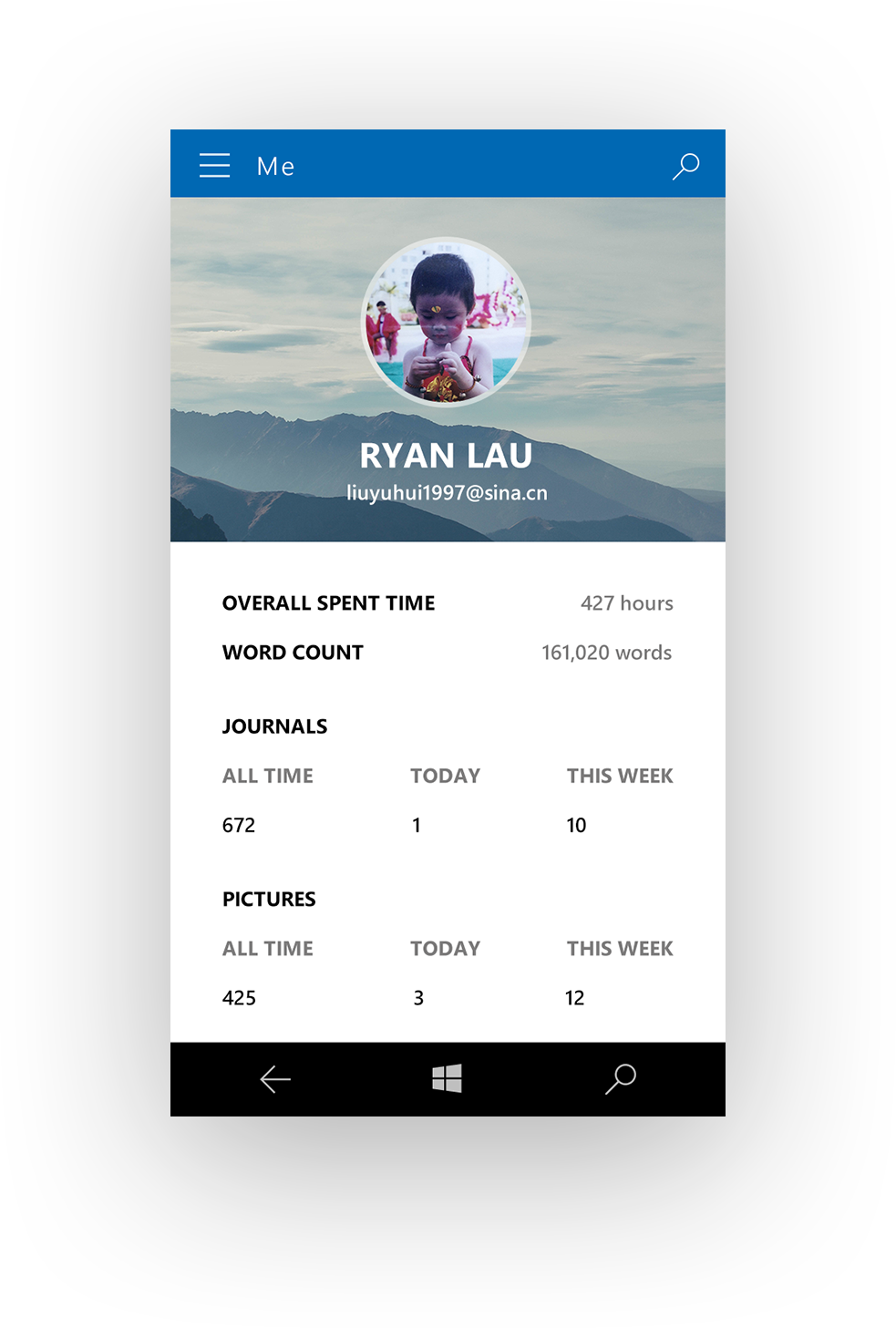 Settings
All in Your Preference
Journo is the true very own journal book of yours. You can choose the theme, accent color and font, toggle on Markdown or cloud sync, even let Journo notify you to write a journal on selected frequency.
Much More to Discover
There's a lot more to discover about Journo. The well-designed dark mode to protect your eyes in the dark, enable Windows Hello so the journals will always be yours, swipe gestures are also available in Journo providing you quick access to actions like share and delete.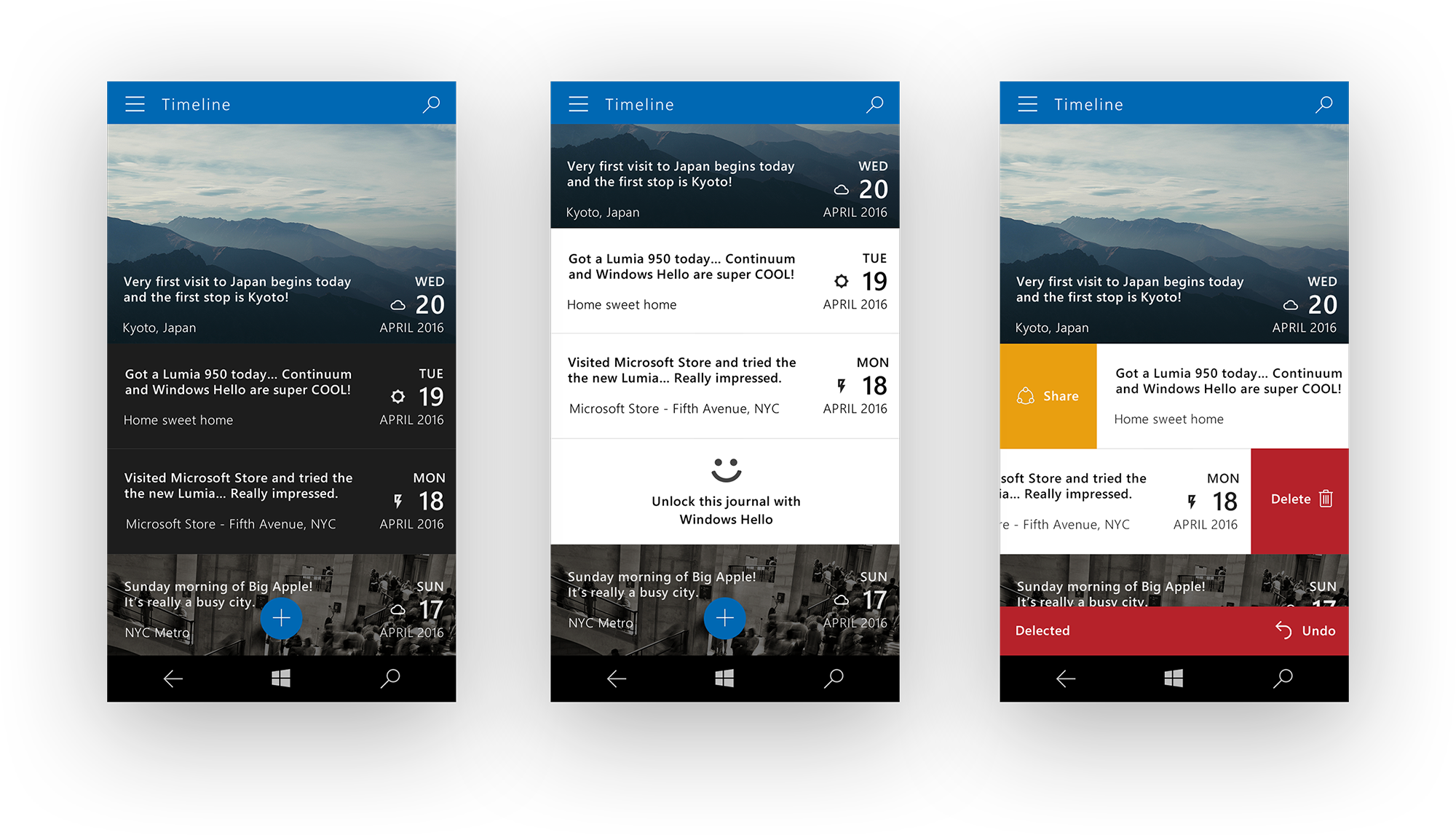 Wanna see more?
Get full documentation of Journo.